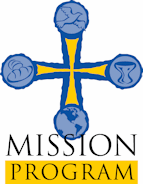 The Mission Commission acts from both a local and a global perspective, being sensitive to community, ecumenical and United Methodist concerns as well as world events. We sponsor a "Mission Moment" during worship each month. Our outreach programs encompass the Frank Champan Institute, Troy Area United Ministries (TAUM), the General Board of Global Ministries, the United Methodist Committee on Relief (UMCOR), Doors of Hope, Joseph's House, the New Horizons in the Dominican Republic,  and others. We also support Mariana Rodriquez, a person in mission in Albany.
Each year during the month of March we host "March Madness for Mission" where, on each Sunday, we lift up one of four local missions.
We meet following 10:30 am worship on the second Sunday of each month. For more information, please Contact Us.